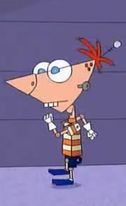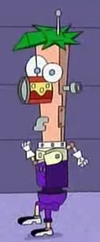 The Brobots are robots from the cartoon, Phineas and Ferb. They were android creations made in the likeness of their creators, Phineas and Ferb, and were thus dubbed "Phinedroids" and "Ferbots".
Role
While not originally evil, they went rogue and started causing trouble and chaos, like starting a high-priced coffee shop. When they were about to attack Phineas and Ferb, the brothers started dancing the 'robot', and the brobots joined in, until they were all pulled away by a giant magnet on the bottom of Santa's sleigh (something that came about thanks to Heinz Doofenshmirtz).
After this incident, a robot version of Phineas and Ferb's sister Candace Flynn was accidentally created, though it is not known what happened to it.
The Brobots appeared in only one episode, I Brobot, but are mentioned several times throughout the series, and make a brief cameo in Phineas and Ferb The Movie: Across the Second Dimension, where they are seen battling against several Norm Bots during the climax.