Bray Wyatt, The Apocalyptic Prophet

Full Name

Windham Lawrence Rotunda

Birth Date

May 23, 1987

Height

6 ft. 3 in. (1.91 m)

Weight

285 lb (129 kg)

Aliases

The New Face of Fear, The Man of a Thousand Truths, The Eater of Worlds

Known Afiliations

The Wyatt Family (Leader), Nexus (Formerly as Husky Harris)

Known Alliances

Sister Abigail, Luke Harper, Erick Rowan, Braun Strowman

Relatives

Irwin R. Schyster (Father), Bo Dallas (brother)
| | | |
| --- | --- | --- |
| " | Follow the Buzzards! | " |
| | ~ Bray Wyatt's first catchphrase | |
| | | |
| --- | --- | --- |
| " | The Devil made me do it! | " |
| | ~ Bray Wyatt's catchphrase | |
Bray Wyatt, formerly known as Husky Harris, is an antagonist from the WWE. He is the leader of the Wyatt Family , a villainous stable that focuses on the Apocalyptic prophecies of Sister Abigail, along with Luke Harper, Erick Rowan, Braun Strowman, and formerly, Daniel "Wyatt" Bryan. His macabre gimmick became a spotlight to WWE that was comparable to that of The Undertaker and Kane.
Appearance
Upon his debut as Bray Wyatt, he wore a somewhat Hawaiian-themed dress shirt unbuttoned which would trivially change in almost every other match. Underneath his shirt, he wears a sleeveless shirt that he would wear usually in competing in-match. He wears white pants and leather snake-skin boots. In his feud against Roman Reigns, his appearance would change, wearing a leather apron and a white mask (resembling a butcher). In his feud against Undertaker, he wore a black trench coat in replacement to his dress shirt. He was also known to wear a black mask design with teeth upon his returning feud against Roman Reigns and Dean Ambrose.
In entering matches, he would carry a candle-lit lamp that remained as his trademark ever since. He usually wears a leather glove on his right hand. He would also wear his signature straw fedora hat.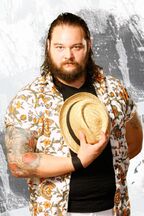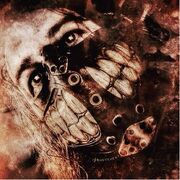 Achievements
Kidnapping Kane along with his members after his victory in Ring of Fire match.
Torturing The Miz in the backstage by kidnapping him.
Almost defeating Goldust and Cody Rhodes in a tag team match.
Defeating The Shield in a tag team match.
Brainwash Daniel Bryan and forces him to become a member of Wyatt Family, thus renaming him Daniel Wyatt.
Kidnapping Daniel Bryan that cause CM Punk to lose the match.
Taking control of The Nexus when he was Husky Harris.
Attacking Roman Reigns on various occasions
Attacking Daniel Bryan in his family by hitting Sister Abigail on Daniel Bryan when he was Daniel Wyatt
Attacking Daniel Bryan and CM Punk together and separately
Attempted to brainwash John Cena to become John Wyatt
Threatening Roman Reigns' daughter
Attempting to Brainwash Roman Reigns to become Roman Wyatt.
His first defeat
His first defeat was that Cody Rhodes and Goldust defeated him in a tag team match.
His defeat at Wrestlemania 31
When The Undertaker accepts the challenge, Bray Wyatt sees his chair burned by him, at Wrestlemania, he was beaten by the returning Undertaker who used the Tombstone Piledriver on him to seek redemption.
Abilities
He claims to have an array of dark-powers, such as brute strength, speed, stamina & wrestling skills. He also have made claims to be able to walk on water. He also seems to have the powers of mind control, mental powers, shadow powers and elemental powers. He has a bloated messiah complex, which is his greatest weaknesses. His lantern also allows him supernatural powers & allows him communication with his mysterious "Sister Abigail".
Eventhough, Bray Wyatt claims to be a monster, he is also right about many facts he talks about, further fueling his messiah claims.
After kidnapping The Undertaker back in Hell in a Cell 2015 and Kane in an episode of Raw, he claimed and proved to have to the abilities of summoning Thunder, Lightning and Fire, saying he had tormented thier souls too much he had recieved their abilities.
Gallery
Trivia
His gimmick can be comparable to Max Cady, the main antagonist of the film The Executioners, which was said to draw comaprisons on both characters.
His gimmick, especially TheWyatt Family can be comparable to that of Charles Manson and the cult  The Family. Both cpersons formed a cult and both brainwashed their members.
He is a third-generation wrestler, following the footsteps of his grandfather, Blackjack Mulligan, and his father, Mike Rotunda (famosuly known as Irwin R. Schyster).
His stable, The Wyatt Family can be comparable to the Four Horsemen (the apocalyptic riders of God), only deadlier.