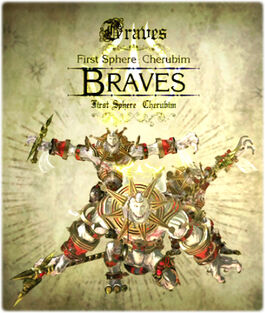 Braves are First Sphere Angels that serve Jubileus, The Creator.
Hierarchy of Laguna
It can be said that Braves are capable of carrying God upon their shoulders. Moving in groups of three, each Brave wears the halo of the Second Sphere Powers upon its head; however when necessary, Braves can combine three of their bodies into one true form, a First Sphere Cherubim. Boasting the most brute strength of all the inhabitants of Paradiso, an unknown number of evils have faced judgement at the hands of Braves.
Ad blocker interference detected!
Wikia is a free-to-use site that makes money from advertising. We have a modified experience for viewers using ad blockers

Wikia is not accessible if you've made further modifications. Remove the custom ad blocker rule(s) and the page will load as expected.