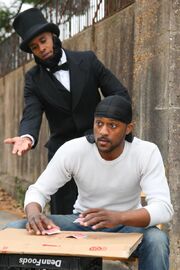 Booth Is the main antagonist and brother of Lincoln in the play of Topdog Underdog. He live alone with his older brother since their parents abandoned them. He's a card player he love playing with the cards he have in his hands. He seem to love his brother at the beginning but later he become jealous of him because he had job comparated to him who was a simple card  player. He became more agressive day by day and now hate his brother more then anything else and do not considerated him as a brother anymore. So talk bad and scream at his brother throwing him on the floor and menacing him to kill him. Everytime his brother think he's joking he will never do that to him. Until the end of the play where he said to his brother to open the envelope Grace give him Lincoln see it was money so Booth shoot him in his head. He was still mad at his brother who was now on the floor without moving. But when he see what he's done he feel with remorse and cried over his brother death and we heard cops cars outside their house.
Ad blocker interference detected!
Wikia is a free-to-use site that makes money from advertising. We have a modified experience for viewers using ad blockers

Wikia is not accessible if you've made further modifications. Remove the custom ad blocker rule(s) and the page will load as expected.