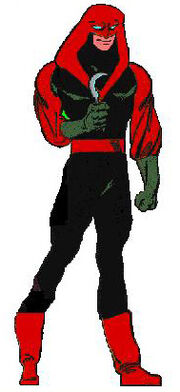 Australian criminal Boomslang was ordered by the Viper (Madame Hydra) to infiltrate the Serpent Society. While not a particularly ruthless villain, Boomslang had an incredible throwing arm and excellent hand-to-hand combat skills, which made him a formidable opponent for the likes of Captain America.
During his first mission, Boomslang joined Cobra and Copperhead as they poisoned Washington D.C.'s water supply, turning the citizens into horrifying snake-like creatures. He and Copperhead were quickly dispatched by Captain America, but Cobra was able to escape.
Boomslang continued to serve with the Society, but when he was sent to spy on Diamondback, he was confronted by Captain America. Boomslang quickly fled the scene, but ran into a gang of teenage thugs. The gang shot Boomslang numerous times, and Captain America immediately took him to the hospital. Boomslang has not been seen with the Serpent Society since, and has possibly reformed after his near-death experience.
Ad blocker interference detected!
Wikia is a free-to-use site that makes money from advertising. We have a modified experience for viewers using ad blockers

Wikia is not accessible if you've made further modifications. Remove the custom ad blocker rule(s) and the page will load as expected.