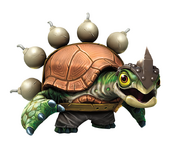 Bomb Shell is one of the trappable villains in Skylanders: Trap Team. A Magic element trap is required to trap him.
Bomb Shell appears in the Chef Zeppelin level, he remind the turtle and its shell is bombs whom it use in the battle. The Skylanders needed the key that they to defeat and capture Pepper Jack. Before they had to defeat Pepper Jack's minions and Bomb Shell too, Bomb Shell is last resistance.
Anyway the Skylanders defeat him, lock him in a Magic element trap and received the key, and then they continued their journey in command kitchen to defeat and capture Pepper Jack.
Gallery
Ad blocker interference detected!
Wikia is a free-to-use site that makes money from advertising. We have a modified experience for viewers using ad blockers

Wikia is not accessible if you've made further modifications. Remove the custom ad blocker rule(s) and the page will load as expected.