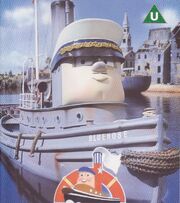 Bluenose is a navy tug on the children's television series "TUGS." He plays precisely by the rules and acts as a kind of stereotypical army sergeant towards the other tugs. He is annoying, bossy, pompous, and self-centred. He is notorious for putting orders before common sense. Bluenose also appears in TUGS footages in Salty's Lighthouse.
About Bluenose
As mentioned earlier, Bluenose is an extremely arrogant and rude tugboat with a stereotypical drill sergeant type of attitudes. Bluenose also assigns the tugs to haul highly dangerous ammunitions to be taken and loaded onto a freighter.
Fate
Bluenose's engine stops working during a fire on the harbor. Ten Cents rescues Bluenose and is safe. Grampus the submarine arrives and takes Bluenose away for his bad behavior.
Ad blocker interference detected!
Wikia is a free-to-use site that makes money from advertising. We have a modified experience for viewers using ad blockers

Wikia is not accessible if you've made further modifications. Remove the custom ad blocker rule(s) and the page will load as expected.