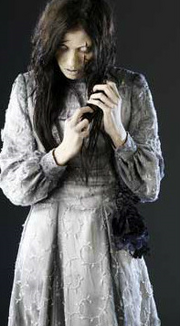 Dr. Mary Agana, better known as Bloody Mary, is the icon for Halloween Horror Nights: Reflections of Fear at Universal Studios Florida during 2008. Based on the legend of Bloody Mary, Universal created a backstory on her transformation from a psychiatrist to the aforementioned urban legend herself. She has made appearances in the majority of advertisements as well as other aspects during 2008's event.
Backstory
The Old Urban Legend
The urban legend of Bloody Mary goes back as far as a single person can remember. Everyone is familiar with it, however no one realizes the true source. A ghost known as Bloody Mary tends to appear in a mirror if one states her name three times while alone. It is believed that legend stretches as far back as Queen Mary I of England.
1908 events
A school teacher in Carey, Ohio named Mary Worthington has passed away on August 27, 1908 as a result of a Halloween prank orchestrated by the school handyman, Aldridge Kesterson. Six students were also involved in the mysterious death of Mary Worthington, the teacher of the six students; however one student named Thornton Kesterson wasn't present due to the persistent goading by his father named Aldridge. Mr. Renshaw, who takes place as the schoolmaster found his schoolhouse in complete disarray with and blood and shards of glass scattered across the room. Mrs. Worthington's body was never found while classified missing, despite suspected murdered.