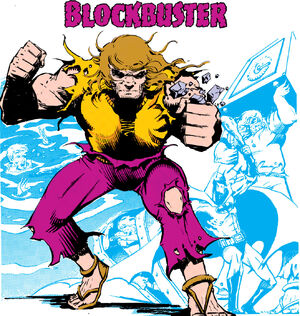 | | | |
| --- | --- | --- |
| " | Pound their heads! | " |
| | ~ Blockbuster I | |
Blockbuster I is a strong supervillain in the DC Comics and enemy of the Justice League.
History
Mark Desmond was a chemist who had wanted to become stronger, having been scrawny as a youngster. Experimenting on himself, he created a serum that made him grow stronger and taller, but in the process was turned into a mindless brute; an additional side-effect of the serum was that it took away his power of speech. Desmond was cared for by his criminally-minded brother, Roland Desmond, who shielded Mark's monstrous appearance from their mother.
Roland used Mark to commit crimes until they were stopped by Batman and Robin. Desmond had years earlier been rescued from drowning in quicksands by Bruce Wayne, who had arrived on the brothers' island home after his yacht had been wrecked during a storm at sea. The Dark Knight Detective discovered that he could calm and stall the behemoth by removing his cowl and revealing his face. The sight did indeed calm the giant, preventing further destruction. Blockbuster sought solitude when free, only to find himself opposing the Caped Crusader on various occasions. He served as a member of the Secret Society of Super Villains during a battle with the Justice League.
Legends
He was recruited by Amanda Waller's new Suicide Squad, and died battling Darkseid's creation Brimstone.
Post-Flashpoint
In the new timeline, Blockbuster is alive and well. He was mind-controlled by the villainous Necromancer into helping her steal an artifact from a Washington D.C. museum. This brought him to the attention of Hawk and Dove. The pair teamed with Batman and Robin to stop Necromancer and Blockbuster.
Gallery