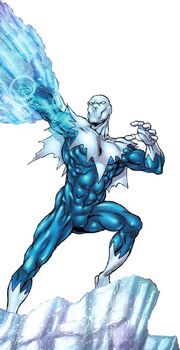 Blizzard is a Marvel comics supervillain and an enemy of Iron Man, although he had also fought the Avengers and Spider-Man.
Donald Gill was a criminal who was given an ice-powered suit by Justin Hammer to combat Iron Man. He teamed up with Beetle and Backlash to form the "B-Team". He also later worked for M.O.D.O.K..
After awhile, Blizzard tried to reform, joining the Thunderbolts.
Powers and Abilities
Blizzard's isulated power suit has cryokinetic abilities and can simulate cold weather and project ice.
Marvel Cinematic Universe
Donnie Gill appears as a minor antagonist in the first season of Marvel's Agents of S.H.I.E.L.D. He was a student of S.H.I.E.L.D. Academy before being brainwashed into working for HYDRA.
Gallery
Ad blocker interference detected!
Wikia is a free-to-use site that makes money from advertising. We have a modified experience for viewers using ad blockers

Wikia is not accessible if you've made further modifications. Remove the custom ad blocker rule(s) and the page will load as expected.