Ad blocker interference detected!
Wikia is a free-to-use site that makes money from advertising. We have a modified experience for viewers using ad blockers

Wikia is not accessible if you've made further modifications. Remove the custom ad blocker rule(s) and the page will load as expected.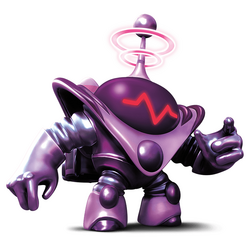 Blaster-Tron
is futuristic robot and one of the trappable villains in
Skylanders: Trap Team
. He is of the Light element. Blaster-Tron appears in the Future of Skylands level, where
haired freak Wolfgang
 was taken over power. After being rehabitated by the Skylanders and joining them prior to Skylanders Imaginators, he is now a Sensei of the Knight Class.
He is voiced by Alex Ness.
Blaster-Tron can fire a blast of energy at enemies that comes within range. He also has a rocket pack that allows him to fly forward in the direction he is facing. Blaster-Tron is some kind of future robot whose the Skylanders met somewhere ambush place, his attacks are Future Beam and Rocket pack. He can still be captured in a Light element trap.
Gallery
Trivia
Blaster-Tron litterally has an "Good/Evil" switch, meaning that at the flick of a switch, he can instantly change from bad to good.