✔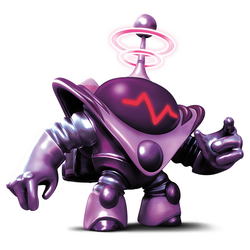 Blaster-Tron
is futuristic robot and one of the trappable villains in
Skylanders: Trap Team
. He is of the Light element. Blaster-Tron appears in the Future of Skylands level, where
Wolfgang
had taken over. After being rehabilitated by the Skylanders and joining them prior to
Skylanders Imaginators
, he is now a Sensei of the Knight Class.
He is voiced by Alex Ness.
Blaster-Tron can fire a blast of energy at enemies that comes within range. He also has a rocket pack that allows him to fly forward in the direction he is facing. Blaster-Tron is some kind of future robot whose the Skylanders met somewhere ambush place, his attacks are Future Beam and Rocket Pack. He can still be captured in a Light element trap.
Gallery
Trivia
Blaster-Tron quite literally has a "Good/Evil" switch, meaning that at the flick of a switch, he can instantly change from bad to good.