Blair Sullivan is one of the villains of the book and the 1995 thriller/mystery, Just Cause.
He was played by Ed Harris.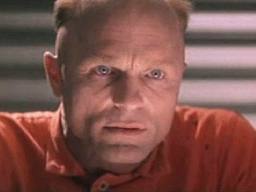 After Bobby Earl tells Armstrong that Sullivan is the one who killed Joanie Shriver. He interviews him, Blair starts off nice with the conversation then turns into an on and off screaming monster. He tells Armstrong where the knife, that murdered Joanie Shriver is at. Then when Bobby Earl is freed from death row and his crime. Armstrong gets a call from Sullivan, who tells him that his death warrant has been set in motion and to go to his parents and tell them that he loves them and that they're in his prayers. Armstrong does so and discovers that Blair's parents are murdered. He goes to Sullivan, who then explains that Bobby Earl and he made a deal, Bobby Earl would kill his parents and Sullivan would take his crime. Then he tells Armstrong that he didn't rape and kill Joanie Shriver and Bobby Earl coached him a bit on the details. The net result is that Bobby Earl is freed, gets away with the crime he's truly responsible for, and butchers Blair's parents. While all Sullivan had to do was tell Armstrong where the knife was hidden and write the letter, that freed Bobby Earl. Then Sullivan demands Armstrong to tell him what happened to his parents. Armstrong lies to him saying that they forgive him and they'll remember him in they're prayers. Angered Sullivan screams to Armstong saying they played him like a tune, it isn't over yet that he's got the trials of Job ahead of him, the sinner's pride, and the messenger's revenge. Then Sullivan is executed and killed.