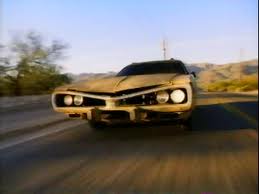 Black Dodge Charger is the main villain of the 1990 TV movie, Terror On Wheels.
Plot
The Black Dodge Charger is a vehicle of mixed years of 1971 and 1974. The driver has never been seen in the vehicle. Througout the entire movie, the vehicle had been known to molest and even sometimes kill young girls. The vehicle even stalked a young girl named Stephanie who is the daughter of a single mother who is also her bus driver. One day, the car kidnapped the young girl in front of her mother's eyes, and the chase began through out Death Valley until they reached a quary in the middle of the valley. The mother eventually rescued her daughter and she threw the car off the road into the deep earth below with her bus. Thinking that the car was finally gone, the mother and daughter were both shocked and horrified to find that the driver of car was still alive and making its way to kill them. The mother managed to get the bus going again and backed up just in time just as the car drove into the cliff and crashed into the explosive house below and destroyed it completely.
Ad blocker interference detected!
Wikia is a free-to-use site that makes money from advertising. We have a modified experience for viewers using ad blockers

Wikia is not accessible if you've made further modifications. Remove the custom ad blocker rule(s) and the page will load as expected.