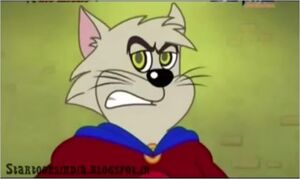 Billiman is a character who only appears in Pakdam Pakdai: Doggy Don vs. Billiman. He is the movie's main villain.
He wants to turn the town where Doggy Don and Colonel lives into a city.
Billiman is an arrogant man who believes that all dogs should be slaves and in the future. In the end, Doggy Don and Colonel, along with Chhotu, Motu and Lambu and the citizens of the town defeat him. He build robots to enslave them. Now he was defeated by everyone including Doggy Don, Colonel and the mice and sent far back to the past
Gallery
Ad blocker interference detected!
Wikia is a free-to-use site that makes money from advertising. We have a modified experience for viewers using ad blockers

Wikia is not accessible if you've made further modifications. Remove the custom ad blocker rule(s) and the page will load as expected.