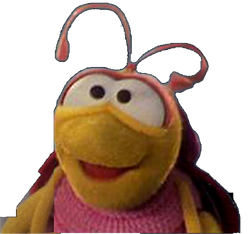 Bill the Bug (referred to as Bug) is the secondary antagonist of The Adventures of Elmo in Grouchland and the main antagonist of Elmo in Grouchland CD Game. He is the lead henchman of Huxley, who steals Elmo's blanket. He and the Pesties misleads Elmo into thinking it's the right direction, but will lead him somewhere else. After he heard complaints from Elmo for his blanket and the Grouches for the trash and items Huxley stole after the gang arrived at his castle during the scenario for the incidents that occurred in the previous day where Elmo lost his blanket, he uses the helicopter's vacuum to get a hold of his blanket and then gives it back to Elmo. When Huxley was going to change his mind because of the incidents he caused, Bill broke up the friendship and arrested him.
In Panwapa Island, he is the tritagonist. He tracks the location of the island on globe and discovers things around the world. Bill made one appearance on a Sesame Street episode "Good-bye, Elmo, Hello, Jelmo" on Season 37.
Gallery
Muppet Villains

Muppet Films
Doc Hopper | Snake Walker | Nicky Holiday | Marla, Carla & Darla | Marley & Marley | Long John Silver | Pirates (Polly Lobster, Mad Monty, Clueless Morgan, One-Eyed Jack, Black Dog, Angel Marie, Blind Pew, Calico, Jacques Roach & Sweetums) | Captain Flint | K. Edgar Singer | Hugo Krassman | Mary | Rachel Bitterman | Wicked Witch of the East | Wicked Witch of the West | Tex Richman | Uncle Deadly | Moopets | Constantine | Dominic Badguy

Independent Films
SkekSès (SkekSo, SkekZok, SkekUng, SkekSil, SkekTek, SkekAyuk, SkekNa, SkekShod, SkekOk & SkekEkt) | Jareth | Goblins | Huxley | Bill the Bug | Pesties
Ad blocker interference detected!
Wikia is a free-to-use site that makes money from advertising. We have a modified experience for viewers using ad blockers

Wikia is not accessible if you've made further modifications. Remove the custom ad blocker rule(s) and the page will load as expected.