Big Ben Healy is one of the villains of the Problem Child movies. He was played by the late Jack Warden.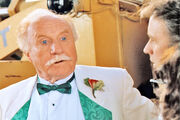 Ben's rich and self-serving dad, who hates Junior calling him the devil. In the 1st movie, he runs for mayor while being sports goods dealer. Big Ben Healy also plans to sell his store and land to a Japanense company and not his son. The reason why Big Ben plans to do this is because he thinks and says his son is too nice and good and not evil and ruthless like him.
Later his son, Ben Healy, turns on the camera, which films Big Ben insulting everyone in Cold River and causes him to lose after Big Ben refuses to help him in getting Junior Healy back. In the 2nd movie, Big Ben becomes broke even though he did a commercial, which sold him 1 starter kit and stays with Ben and Junior in Mortville, which Ben and Junior unwillingly both agree to let him stay. Big Ben gets rich again when he marries Lawanda Dumore at the end of the 2nd movie.