✔
Facts
Bhaltazar is the cousin of gargamel !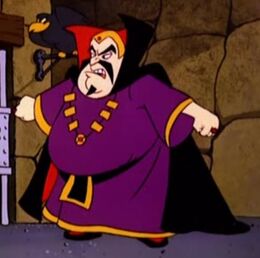 He didn't belive that smurfs exist until he saw them !
He's weapon was a strong and massive gun !
He lived in a big castel !
He's pet was a red , giant water dragon !
He never respected he's promisses to gargamel !
He never helped gargamel !
He's palace was full of traps !
He woden't ezit to kill someone !
He has a niece called Agnes who seem nicer then him and Gargamel !
He never believe in The Smurfs existence until he see them and know they really exist he also tried to capture them !
Ad blocker interference detected!
Wikia is a free-to-use site that makes money from advertising. We have a modified experience for viewers using ad blockers

Wikia is not accessible if you've made further modifications. Remove the custom ad blocker rule(s) and the page will load as expected.