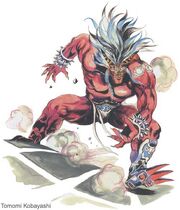 Berva is one of the villains from Red's storyline in SaGa Frontier.
He is one of the Four Emperors of Black X, a big monster who work in the Shingrow region recruiting new members for the organization.
He uses the Shingrow ruins as a base, making anyone who wanders the place into new recruits, and turning the weak ones into slaves.
Red, who was after Black X in Shingrow, teams up with IRPO agent Doll and finds out Berva's hideout. After a brief fight, Berva flees to the Shingrow Palace where they fight agian, but he ends defeated. Berva appears again in Black X's base, having been revived by Dr. Klein to fight Alkaiser, but he is defeated once again.
Ad blocker interference detected!
Wikia is a free-to-use site that makes money from advertising. We have a modified experience for viewers using ad blockers

Wikia is not accessible if you've made further modifications. Remove the custom ad blocker rule(s) and the page will load as expected.