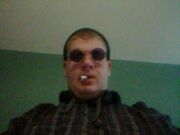 Berkeley, is a fictional character on  the stoner-buddy comedy series, Rob & Trent. He is one of Rob Smiley and Trent Lane's contacts, personal drug dealer, and best friends.
Berkeley seems oblivious to his surrounding due to being a pothead, smoker, and drug expert. Berkeley is always perpetually stoned. This is evident due to the fact that Berkeley almost always ends his sentences with 'Man' or 'Dude' or someones 'Bro' and calls everyone Man, dude, or bro, even women. He is extremely slow-witted, lethargic from his life-time of being high, and speaks in a low, calm, and very soft-spoken tone of voice, and never gets mad about anything. He is chill and laid back and is incredibly slow to react to his surroundings, taking up from five minutes to even an hour to realise what the situation was, sometimes he realises Rob & Trent's problems months after they have been solved. His last name is unknown. It is possible Berkeley is his last name, and his first name is unknown.
He is portrayed by Alex McFarlane.
Ad blocker interference detected!
Wikia is a free-to-use site that makes money from advertising. We have a modified experience for viewers using ad blockers

Wikia is not accessible if you've made further modifications. Remove the custom ad blocker rule(s) and the page will load as expected.