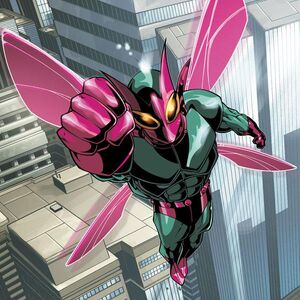 Abner Jenkins was a mechanic for an aircraft producer, but tired of not getting promotions he thought he deserved he decided to strike out on his own. Using a suit of armor, Jenkins became the Beetle. He fought many superheroes, including the Human Torch and the Thing, Iron Man, Dardevil, and most often, Spider-Man. He joined several villainous groups, including the Sinister Seven and the Masters of Evil.
Beetle later gave up his criminal ways and became a hero named Mach V as a member of the Thunderbolts.
The Beetle armor granted him flight at up to 60 mph, electrical projection from his gloves, great durability, super strength, and a 360-degree view around him.
Appearances in other media
The Beetle appears as a minor villain in the videogame Spider-Man 2: Enter Electro, the Ultimate Spider-Man videogame, and the show on Disney XD, Ultimate Spider-Man.
He appeared very briefly in the 1990's Animated Iron Man series, during the 'Armor Wars' episode, in which he was humorously given a British Liverpudlian accent. Beetle was one of several foes and allies Stark targeted for illegal use of his technology. To complete (or carry too far) the joke, Iron Man told the Beetle he was in for 'a hard day's night'.
Beetle served as the main villain for the flashback episode 'Origin Of The Spider-Friends' on Spider-Man And His Amazing Friends. In keeping with references to The Beatles, Iceman joked that he had bought all his records. He had attacked Tony Stark, who was rescued by the three young heroes. Out of gratitude, Stark purchased the extensive equipment the mostly broke college students used to fight crime.
Gallery