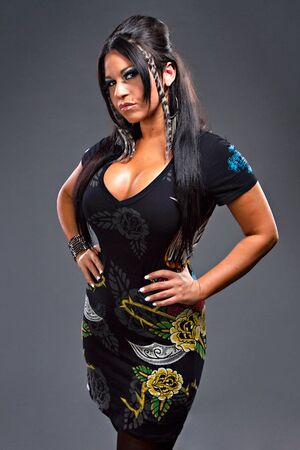 Becky Bayless is a professional wrestler and valet best known for her brief tenure in TNA as Cookie, the villainous valet/girlfriend of Robbie E.
Before joining TNA, Becky spent several years on the independent circuit, which included debuting for Women's Extreme Wrestling in 2004. Becky portrayed the villainess in her debut; competing in a losing effort in a Bra and Panties title match against WXW Women's Champion Talia Madison (aka future TNA Knockout Velvet Sky). After the match, however, the evil Becky refused to live up to the stipulation, stating that no one will ever see her in her bra and panties.
Becky joined Women Superstars Uncensored in 2007 and engaged in a feud with top heel Alicia, which included losing at WSU Championship No DQ match to Alicia in what was supposed to be the champion's retirement match. She later aligned with Alicia on the following evening, and it was later revealed that both women pretended to feud to make themselves look good. After that, Becky continued portraying a villainess and feuded with women such as Tammy Lynn Sytch (aka WWE Hall of Famer Sunny) and Dawn Marie.
Becky debuted in TNA as Cookie in 2010, serving as the girlfriend/valet to the also-debuting Robbie E. Their gimmick was a take on the then-popular MTV series, Jersey Shore, and for a brief period, Cookie feuded with one of the show's cast members, Jenni "JWoww" Farley; a feud that would include Jersey Shore villainess Angelina Pivarnick aligning with Cookie and Robbie E. Cookie feuded with several Knockouts in her time with TNA, including Christy Hemme, Traci Brooks, and The Beautiful People. She would leave TNA in August 2011, after her contract expired.
In TNA, Cookie was obviously portrayed as a comedic villain, mainly because of the Jersey Shore references. Throughout her wrestling career, Becky has often portrayed an arrogant heel.
Gallery