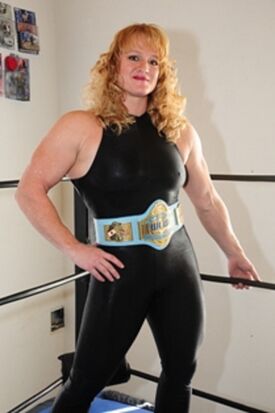 Becca Swanson
is a villainous professional wrestler best known for competing in the Missouri-based World League Wrestling promotion. She is a former WLW Women's Champion.
Becca made her villainous debut for WLW in July 2009, and engaged in a three-way feud with Amy Hennig and Lucy Mendes over the former's WLW Women's Championship. Becca portrayed a monster heel in the feud, which saw her fail to unseat Hennig as Women's Champion in her first two attempts. On October 3, 2009, the evil Becca defeated Hennig and Mendes to capture the WLW Women's Championship, and successfully defended the title against the two women on March 5 and 6, 2010. On March 12, Becca lost her title to Lucy Mendez. In her last wrestling appearance, Becca failed to regain the title when Amy Hennig defeated her and Lucy Mendes to become the new champion.
In her brief wrestling stint, Becca was portrayed as an arrogant heel who flaunted her strength and enjoyed demolishing her opponents.
Gallery