Beastly Titan
Talk

0
26,402pages on
this wiki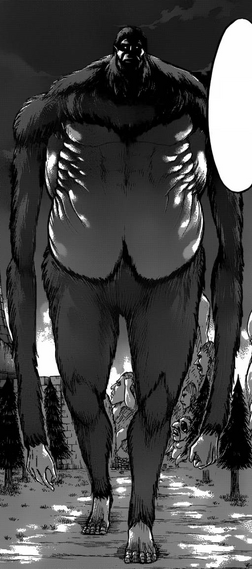 Beastly Titan
, (a.k.a.
Ape Titan
), is one of the villains in
Attack on Titan
.
Appearance and Abilities
The Ape Titan is 17m in stature, larger than the common 15m Titan. While all other Titans seen in the story thus far have been distinctly human in appearance, the Ape Titan possesses more animal-like features. It has apelike features, and most of its body except for the face and torso is covered in fur.
Due to the partition in its hair being similar to Grisha Yeagar's hairstyle, it has been speculated, based on appearance alone, that this titan is Grisha Yeager in titan form.
The Ape Titan possesses numerous abnormal traits. Most notable are its high intelligence and its ability to speak human language. Possibly as a consequence of this, it is capable of controlling other Titans through a combination of verbal orders and physical intimidation. Additionally, the Ape Titan possesses the strength to throw heavy projectiles great distances with excellent accuracy and the dexterity to scale the Wall Maria.
Trivia
He maybe based on Bigfoot.