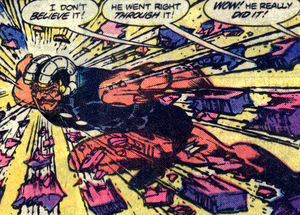 History
Battering Ram aka Bruno Hogan is a mutant circus star. He has a pair of ram horns on his head. He played a large role until he was fired from the circus for stealing. Wanting revenge he went on a dangerous rampage until he was stopped by Chris King and Vicki Grant in hero forms.
Powers
His horns on his head gives him great strength.
Ad blocker interference detected!
Wikia is a free-to-use site that makes money from advertising. We have a modified experience for viewers using ad blockers

Wikia is not accessible if you've made further modifications. Remove the custom ad blocker rule(s) and the page will load as expected.