✔



Click To Help Darkseid!

Darkseid has declared that this article requires immediate Cleanup in order to meet a higher standard.
Help improve this article by improving formatting, spelling and general layout - least it fall victim to an Omega Effect

| | | |
| --- | --- | --- |
| " | ... Let's see what your power is against a master of LA SAVATE! | " |
| | ~ Batroc | |
Batroc the Leaper (real name: Georges Batroc) is a fictional villain from Marvel Comics. His first appearance was in Tales of Suspense #75, 1966.
He is a French costumed mercenary who specializes in savate (also known as "La Boxe Française"), a form of kickboxing. Although he is mainly an enemy of Captain America, he has also faced off against the Punisher, Spider-Man, Deadpool, Hawkeye, Iron Fist, and Gambit. Batroc has occasionally led his own team, "Batroc's Brigade", whose membership has changed over time. The group has primarily fought Captain America. He has functioned as a member of Baron Zemo's Masters of Evil (one of the stronger recurring villain teams that plague the heroes of Avengers).
Captain America: Winter Soldier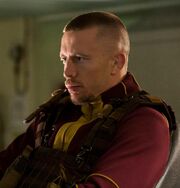 Batroc is portrayed by Georges St-Pierre and appears as a minor antagonist in the Marvel Cinematic movie Captain America: Winter Soldier.
Gallery
Captain America Villains
Comics
Absorbing Man | Adolf Hitler | A.I.M. | Aleksander Lukin | Arcade | Arnim Zola | Awesome Android | Baron Blood | Baron Von Strucker | Baron Zemo | Baron Zemo II | Batroc the Leaper | Black Talon | Black Widow | Blitzkrieg | Blizzard | Boomerang | Bullseye | Cache | Constrictor | Count Nefaria | Cowled Commander | Crimson Dynamo | Crossbones | Cutthroat | Dark Avengers | Doctor Doom | Doctor Faustus | Doctor Octopus | Electro | Famine | Firebrand | Fixer | Flag-Smasher | Ghost | Grand Director | Griffin | Grim Reaper | Heinz Kruger | Herr Kleiser | HYDRA | Hydro-Man | Jack O' Lantern | Killer Shrike | King Cobra | Kingpin | Klaw | Korvac | Lady Deathstrike | Living Laser | Lucia Von Bardas | Machinesmith | Madame Viper | Madcap | Magneto | Man-Ape | Mandarin | Master Man | Mentallo | Mesmero | Mister Hyde | M.O.D.A.M. | M.O.D.O.K. | Mole Man | Moonstone | Nightmare | Nightshade | Obadiah Stane | Punisher | Quicksand | Red Skull | Rhino | Ringmaster | Ronan | Roxxon | Säurespritze | Scarecrow | Scorpion | Secret Empire | Selene Gallio | Serpent Society | Shocker | Shockwave | Sidewinder | Sin | Skeleton Crew | Slug | Stilt-Man | Super-Adaptoid | Superia | Super Patriot | Supreme Intelligence | Tarantula | Taskmaster | Terminus | Thanos | Titania | Titanium Man | Trapster | Typhoid Mary | Unicorn | Ultron | Vermin | Whirlwind | Winter Soldier | Worthy | Wrecker | Yellow Claw | Zahnmörder | Zodiac
Movies
Captain America (1990): Red Skull | Valentina de Santis
Captain America: The First Avenger: Red Skull | HYDRA (Arnim Zola, Heinz Kruger, HYDRA Lieutenant & Velt) | Adolf Hitler | Roeder | Hutter | Schneider
Captain America: The Winter Soldier: Alexander Pierce | HYDRA/STRIKE (Winter Soldier, Brock Rumlow, Jack Rollins, Jasper Sitwell, Russo, Senator Stern, Arnim Zola, Wolfgang von Strucker, List, Scarlet Witch & Quicksilver) | Georges Batroc | Ferdinand Lopez | Gerald Durand
Captain America: Civil War: Helmut Zemo | Thunderbolt Ross | Winter Soldier | Scarlet Witch | HYDRA (Vasily Karpov & Winter Soldiers) | Hero Mercs (Crossbones)