Batroc the Leaper (real name: Georges Batroc) is a fictional villain from Marvel Comics. His first appearance was in Tales of Suspense #75, 1966.
He is a French costumed mercenary who specializes in savate (also known as "La Boxe Française"), a form of kickboxing. Although he is mainly an enemy of Captain America, he has also faced off against the
Punisher
, Spider-Man,
Deadpool
, Hawkeye, Iron Fist, and Gambit. Batroc has occasionally led his own team, "Batroc's Brigade", whose membership has changed over time. The group has primarily fought Captain America. He has functioned as a member of
Baron Zemo
's Masters of Evil (one of the stronger recurring villain teams that plague the heroes of Avengers).
Captain America: Winter Soldier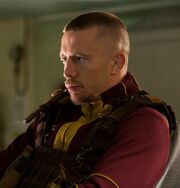 Batroc is portrayed by Georges St-Pierre, and appear as a minor antagonist in the Marvel Cinematic movie; Captain America: Winter Soldier.

Ad blocker interference detected!
Wikia is a free-to-use site that makes money from advertising. We have a modified experience for viewers using ad blockers

Wikia is not accessible if you've made further modifications. Remove the custom ad blocker rule(s) and the page will load as expected.