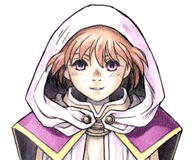 Baruk is a minor villain from Ys 5. He one of Rizze's lieutenants, along with Abyss and Karion.
He first appears when Rizze calls him and the other lieutenants to subjugate Adol inside Dorman's mansion, to take the crystals in Adol's possession, which were needed to break the seal upon the lost city of Kefin. He appears again in the southern tower of Kefin, which Adol infiltrates to rescue Niena, which had been kidnapped by Rizze. Baruk holds Niena hostage and taunts Adol, never noticing that Nottis and Dios from the Ibur Gang were sneaking behind him. The two rescue Niena, leaving Adol to confront Baruk. Noticing his hostage was gone, Baruk gets enraged and attacks Adol, but ends defeated.
Ad blocker interference detected!
Wikia is a free-to-use site that makes money from advertising. We have a modified experience for viewers using ad blockers

Wikia is not accessible if you've made further modifications. Remove the custom ad blocker rule(s) and the page will load as expected.