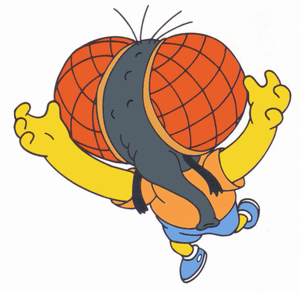 The Fly is a villain from The Simpsons: Treehouse of Horror VIII.
History
Homer buys a teleporter from Professor Frink at his yard sale. Bart asks if he can use it but, Homer refuses. That night, Bart tries to sneak Snowball II into the teleporter and at the same time, Santa's Little Helper jumps in. As the pets come out, Santa's Little Helper and Snowball II have been merged into two creatures. A fly lands on Bart's arm and thinking that he will become a superhero, Bart grabs the fly and steps into the teleporter.
He comes out his normal head, but with the body of the fly and meanwhile the fly has his body. The rest of the family wakes up and sees Bart's body with a fly's head and decide that it must be Bart and accept him as their family. That night, Bart talks to Lisa and tells her what happened. When Lisa is in the kitchen fly-boy eats Bart and Lisa knocks him into the teleporter. Bart then appears in the living room normal. An enraged Homer grabs an axe and starts chasing Bart around for using the teleporter.