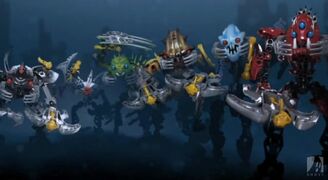 ✔

✔



Click To Help Darkseid!

Darkseid has declared that this article requires immediate Cleanup in order to meet a higher standard.
Help improve this article by improving formatting, spelling and general layout - least it fall victim to an Omega Effect


The Barraki are the major antagonists of the BIONICLE 2007 storyline arc as well as one of the villains in the entire series . They served as the main antagonists of the 2007 storyline and the minor villains in the rest of the storyline. They are in fact , an alliance of warlords who controlled their army called the League of the Six Kingdoms and they seek to destroy the Great Spirit and to conquer the Matoran Universe for universe domination .
Following the Battle of Bara Magna and the collapse of the Great Spirit Robot, the remaining Barraki evacuated onto Spherus Magna, where they were cured of the Pit's Mutagen. 
However, Takadox was eventually revived by Teridax who tricked him into helping him on searching 
History
???
List of Members
Leaders
Gallery
Ad blocker interference detected!
Wikia is a free-to-use site that makes money from advertising. We have a modified experience for viewers using ad blockers

Wikia is not accessible if you've made further modifications. Remove the custom ad blocker rule(s) and the page will load as expected.