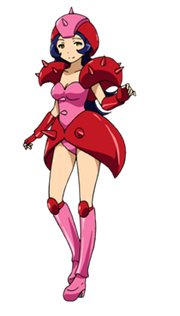 Balanger M2 was one of the 
Mechanical Beast Girls
created by
Dr. Hell
.
History
Balanger is part of a scheme initiated Baron Ashura to end Japan's tuna fish market hoping to send the country into an economic downfall, she is sent to work alongside Posces OII and Glossam X2, they attack the girls who are knocked into the water, whilst Glossam attacks Great-Chan, Balanger grabs Grenda-San and starts to grope her, however she and Glossam are caught in a net and pulled up into a fishing boat, Balanger manages to get tied up in the netting, Glossam tries to cut her way out but only succeeds in making the net tighter, to Balanger's pleasure, after wards they are hit with a triple Rocket Punch causing them to fly into Baron Ashura. Afterwards she and the others are taken back to shore by Ashura with Balanger still tied up and happy in the net.
Ad blocker interference detected!
Wikia is a free-to-use site that makes money from advertising. We have a modified experience for viewers using ad blockers

Wikia is not accessible if you've made further modifications. Remove the custom ad blocker rule(s) and the page will load as expected.