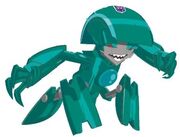 Backtrack is a Decepticon-allied Cyclone Mini-Con in Transformers: Robots in Disguise.
History
Backtrack and Ransack were captured at some point after the demise of Megatronus. They were later freed from their stasis pods during the Bee Tem's fight with Overload. They tailed the Decepticon who was heading for Crown City, and teamed up with him. The pair hung out with Overload until Bumblebee convinced them that they had nothing in common with the Decepticon, and they happily started hitting him with pots and pans. Bumblebee was later able to lead them back to the scrapyard.
When Overload escaped the scrapyard after being freed by Steeljaw, Backtrack and Ransack were left behind by their old master. Backtrack's stasis pod was later taken back to Cybertron by Optimus Prime, Windblade and Ratchet.
Relationships
Ransack - Partner in crime.
Overload - Partner in Crime
Autobots in General - Enemies
Megatronus - Savior (never met)
Gallery