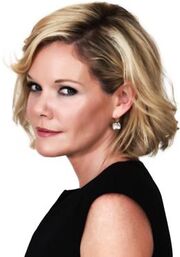 Ava Jerome 
is a fictional character on the
ABC
soap
General Hospital
. She is a member of the Jerome Crime Family and half-sister of Julian Jerome. She ends up leaving the family to become an ally of Sonny Corinthos. She was for the time the lover of his son Morgan. When Sonny discovered she was the one who killed his fiancee Connie Falconeri (and framed A.J. Quartermaine for it), he sought to kill her for it, but discovered she is pregnant with either his child or Morgan's and must wait until the baby is born now. Ava has a volatile personality and will go to any means necessary to get whatever she wants.
She is played by Maura West.
Ad blocker interference detected!
Wikia is a free-to-use site that makes money from advertising. We have a modified experience for viewers using ad blockers

Wikia is not accessible if you've made further modifications. Remove the custom ad blocker rule(s) and the page will load as expected.