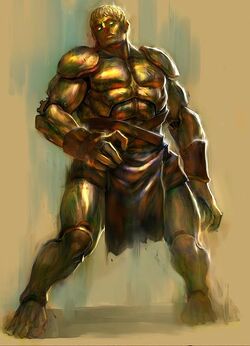 The Automatons are minor enemies that Kratos encounters in God of War: Ghost of Sparta.
Appearance
Automatons are bronze robotic statues that have gears that are revealing and a giant gear that they use as a weapon.
Ghost of Sparta
After Kratos acquire's Thera's Bane, Lanaeus activated a Automaton to kill Kratos. Because of it's highly dense armor, Kratos' normal attacks have no effect on the Automaton. But when Kratos uses the Thera's Bane on the Automaton, the Armor falls apart and eventually causes the monster to collapse on it's knees. Kratos grabs the gear on the Automaton's arm, cuts it off and smashes the Automaton Gear onto the Automaton, both killing the mechanicle monster, and acquiring the Automaton Gear. Kratos encounters multiple Automatons on his adventures to save his brother, and everytime he kills one of them, Kratos always acquires an Automaton Gear.