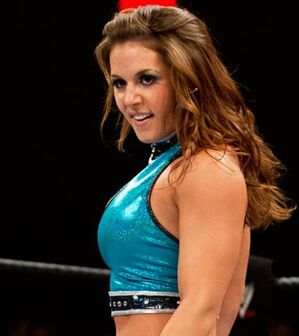 Audrey Marie is a female professional wrestler best known for her time in WWE in the NXT program, where she portrayed a villainess on more than one occasion.
Audrey spent her entire WWE career in their developmental territory FCW/NXT. She started out as a heel in 2011 and aligned with the villainous Sonia in matches against the likes of AJ Lee, Aksana, and Naomi, before beginning a long stint as the perky babyface throughout 2012; heading into FCW's transition into the new-look NXT.
Audrey turned heel on the November 28, 2012 edition of NXT and went on to defeat Emma in singles action. After her victory, Audrey would spend weeks sending various love letters to Sasha Banks; claiming to be her secret admirer. Finally, on February 20, 2013, the evil Audrey revealed herself to Sasha and attacked her, which was part of her plan. Audrey was jealous of Sasha and wanted her out of NXT because Sasha was becoming popular and was on the rise while Audrey was out injured. After attacking Sasha from behind, Audrey laughed evilly at Sasha and told her to get out of NXT. Audrey defeated Sasha that same night, but she would lose to her on two different occasions. Audrey's villainous role ended when WWE released her in May 2013. In her last match in WWE, Audrey was defeated by Emma.
Audrey's heel persona included snarling at the crowd and developing an arrogant attitude. She was also portrayed as someone who wanted the spotlight, which was shown in her brief rivalry with Sasha Banks.
Gallery