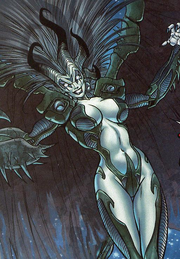 Asteroth
was a being of pure evil that sought to destroy all life in the universe and became an opponent of the Marvel superhero Beta-Ray Bill.
Long ago she was banished to the Cosmic Hell by her own species to safeguard the universe but was freed many centuries later when Stardust opened a portal to this dimension during a battle with Beta-Ray Bill.
Weakened from her centuries of imprisonment Asteroth went on a rampage, consuming as much as she could in order to grow ever more powerful from the devastation.
Ad blocker interference detected!
Wikia is a free-to-use site that makes money from advertising. We have a modified experience for viewers using ad blockers

Wikia is not accessible if you've made further modifications. Remove the custom ad blocker rule(s) and the page will load as expected.