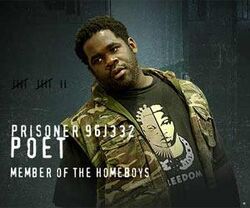 Poet
, played by muMs da Schemer, he is a supporting character in all six seasons of the TV series
Oz
and he serves as 2nd command of the Homeboys prison gang most of the seasons.
Biography
Prisoner #96J352. Convicted February 15, 1996 - Armed robbery, attempted murder, possession of a deadly weapon. Sentence: 16 years, eligible for parole in nine. Granted early release in 1998. Returned as inmate #98J448, convicted July 20, 1998, on one count of 2nd degree murder. Sentence: 26 years, eligible for parole in 19.
Poet is a heroin addict imprisoned for armed robbery and attempted murder. He composes and recites free verse poetry and regularly practices and performs in front of other inmates. He gets paroled early with the help of Kareem Saïd and Tim McManus. His freedom is short-lived, however, as he soon kills a drug dealer who came after him to collect the money he owed. When back in prison, he becomes a full-fledged member of the Homeboy gang, often acting as the second in command to whoever is in charge.
Poet is one of the most incompetent members of the Homeboys, as he relies heavily on other gang members and inmates to solve problems. This is seen through Poet making little to no effort to sell drugs, and daring to get into fights only with backup from Kenny Wangler, Junior Pierce, or Reggie Rawls. Nevertheless, Poet remains as the gang's second in command throughout the series due to his intelligence and diplomacy.