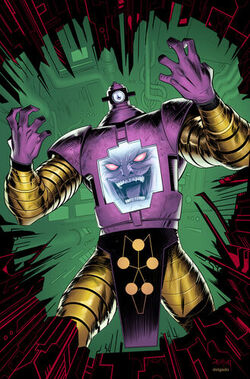 Arnim Zola is an enemy of Captain America in Marvel comics.
Zola was a Swiss genetic scientist who sought to create a master race of beings. As such, he supported the Nazi party during World War II, and worked for Adolf Hitler, the Red Skull, Baron Zemo, and the Second Baron Zemo. Zola created a process in which a person could clone themselves and transfer their mind into either the clone or a robotic body, making them virtually immortal. Zola did this to himself, and transferred his mind into an ESP box in a robot form, his human face a 3 dimensional projection on a screen.
He was also responsible for the creation of Hate-Monger, a superpowered clone of Hitler.
Movie Appearances
Main article: Arnim Zola (Marvel Cinematic Universe)
TV History
Avengers Earth's Mightiest Heroes
Arnim Zola makes an appearance as an antagonist in the TV show; Avengers: Earth's Mightiest Heroes. He worked for Baron Zemo, as well as creating the monster known as Doughboy.
Gallery
Ad blocker interference detected!
Wikia is a free-to-use site that makes money from advertising. We have a modified experience for viewers using ad blockers

Wikia is not accessible if you've made further modifications. Remove the custom ad blocker rule(s) and the page will load as expected.