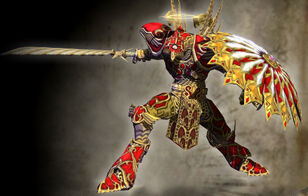 Ardors
are large powerful fighters that support smaller
Angels
in combat. They carry with them a large maple-seed serrated sword and a segmented shield.
Hierarchy of Laguna
The highest ranking member of the Third Sphere, Ardor are christened with the rank of Principalities. Presiding over the protection of the masses from evil spirits, they are equipped with a shield and armor of proof. Wielding the power of Paradiso on those who encroach upon happiness, Ardor are recipients of much adoration from those seeking salvation.
Ad blocker interference detected!
Wikia is a free-to-use site that makes money from advertising. We have a modified experience for viewers using ad blockers

Wikia is not accessible if you've made further modifications. Remove the custom ad blocker rule(s) and the page will load as expected.