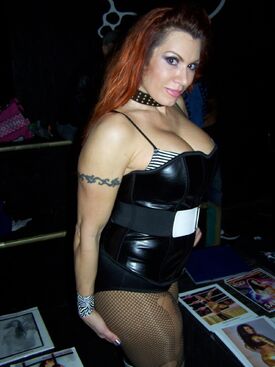 April Hunter
is a professional wrestler and a manager who has competed in several different promotions, including TNA. She is currently a villainess in Shine Wrestling, acting as the evil manager to the Valkyrie faction.
April spent her entire early years in TNA as a babyface, but in her one night only return to TNA on the New Year's Knockout Eve edition of Impact in 2009, April turned heel and teamed with Lorelei Lee in a losing effort against then-reigning Knockouts Tag Team Champions Sarita and Taylor Wilde. April also portrayed the villainess in a pair of matches against Christy Hemme, and lost the first one, which was officiated by WWE Hall of Famer Lita. In their rematch in France, the evil April cheated her way to victory with the use of ropes for leverage.
April debuted for Shine Wrestling at their second show in September 2012, doing so by helping Made In Sin (Allysin Kay and Taylor Made) defeat MsChif and Christina Von Eerie, establishing herself as a villainess. Since then, April has managed the duo in their matches, and all three of them aligned with Rain and Ivelisse to form the Valkyrie faction at SHINE 6 in January 2013. April competed for the first time at Shine on the following month, teaming with Made In Sin to defeat Tracy Taylor, Su Yung, and Mia Yim. She was also on the winning end of a five-on-five elimination match at SHINE 19 in May 2014.
April is portrayed as an arrogant, trash talking villainess when she competes, often flaunting her strength and physique. In her role at Shine Wrestling, April always gets physically involved in Valkyrie's matches.
Gallery