Apostis is a villain of the 1981 James Bond movie, For Your Eyes Only.
He was played by Jack Klaff.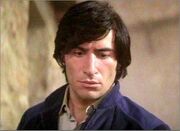 A chauffeur and henchman of Kristatos, smuggler and main villain. He informs Kristatos of Bond's and the countess's location and Kristatos sends Locque, his dragon, to kill Bond and Countess Lisl von Schlaf. Later he's ordered to take the ATAC to St. Cyril's after the capture of Bond and Havelock. He attempts to stop 007's mountineering by knocking out his piton hooks and as Apostis is trying to get the last hook loose Bond throws a hook into his chest, which causes Apostis to fall and die.

Ad blocker interference detected!
Wikia is a free-to-use site that makes money from advertising. We have a modified experience for viewers using ad blockers

Wikia is not accessible if you've made further modifications. Remove the custom ad blocker rule(s) and the page will load as expected.