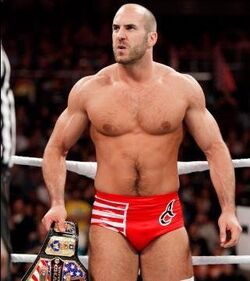 Antonio Cesaro is a Swiss pro wrestler currently in the WWE. He debuted in WWE mainstream television as the villainous boyfriend of Aksana interfering with Teddy Long's romantic aspirations. He would later dump Aksana, not needing a valet.
Before WWE
Prior to WWE he competed under his birth name Claudio Castagnoli, and had the nicknamed Double C. He debuted in the German company Westside Xtreme Wrestling.
He also competed in the Swiss Wrestling Federation as Tenshi Takami, winning the Powerhouse Championship. He later formed a team called Swiss Money Holding with Are$, with who he won the tag team championship.
He later wrestled as a mysterious "Ice Cream" as part of "Los Ice Creams" in Chikara. He also formed "Team Uppercut" with Bryan Danielson. Later reuniting with Ares he would form Bruderschaft des Kreuzes with several other wrestlers.
He later wrestled with Combat Zone Wrestling, Pro Wrestling Guerrilla, Pro Wrestling Noah and Ring of Honor, not being tied down to one organization until 2011. He was a tag team champion with Chris Hero in ROH.
WWE career
Prior to his international TV debut on SmackDown in 2012 he spent a couple years in FCW, when he first adopted the Antonio Cesaro name.
His first mainstream title was earned defeating Santino Marella for the United States Championship, which he held against multiple contenders until finally losing it to Kofi Kingston.
He later partnered with Jack Swagger. They were called the Real Americans (although Cesaro is Swiss, he and Swagger are both former United States champions) and managed by Zeb Colter.
He was briefly a Paul Heyman guy and was marketed as "Plan C" to compete for the WWE World Heavyweight Championship if Seth Rollins failed to achieve it for The Authority.
He now tags with Tyson Kidd, collectively called Masters of the WWE Universe, with Natalya as their valet.
Gallery