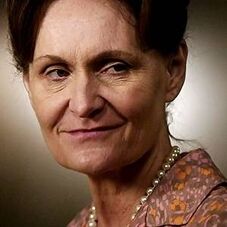 Anita Roycewood 
is a serial killer and child murderer, and the wife of
Roger Roycewood
. She and her husband appeared in the
Criminal Minds
episode "Mosley Lane". 
She is portrayed by Beth Grant.
History
Past
Little is known of Anita's past other than that she owned a funera home and married Roger, an electrician. In 1999, Anita and Roger abducted a girl named Karla Hartaway and kept her as if she was their own child. They repeated the process every year, and whenever their captives grew too old or uncontrollable, Anita would knock them unconscious and kill them by burning them alive. On March 3, 2002, the Roycewoods abducted Charlie Hillridge, who they used as an accomplice to their crimes.
Mosley Lane
Coming soon!