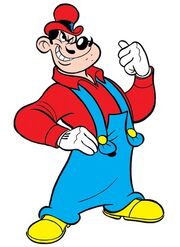 Anacleto Mitragli is a villain from the comic book series Disney, Italian transposition of the original Mr. Jones, the annoying neighbor of Donald Duck. As in the American version, Anacleto often appears as cocky, ruthless, and quarrelsome, constantly quarreling with Donald for any frivolity.
Appearances
Anacleto appears for the first time in history, Donald and holidays lonely, drawn by Carpi as an anthropomorphic dog tall and slender, with long whiskers blacks and bowler hat. Then the character will be taken more often by Julius Chierchini.
See also
Ad blocker interference detected!
Wikia is a free-to-use site that makes money from advertising. We have a modified experience for viewers using ad blockers

Wikia is not accessible if you've made further modifications. Remove the custom ad blocker rule(s) and the page will load as expected.