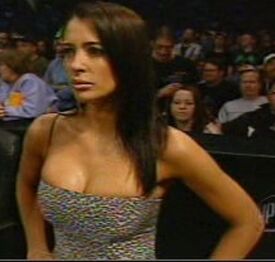 Amy Weber is an actress best known for being a contestant in the 2004 Diva Search in WWE. She would join WWE shortly afterward and serve as a villainess on WWE's SmackDown program.
Amy's WWE career began with the Diva Search in 2004, where she finished in fourth place. She, along with fellow contestants Michelle McCool and Joy Giovanni, debuted on SmackDown on in November of 2004, but unlike Michelle and Joy, Amy debuted as a villainess; portraying the image consultant to then-WWE Champion JBL, and eventually becoming the lone female member of the group known as The Cabinet, In her brief tenure in WWE, the villainous Amy engaged in a feud with Joy Giovanni, which included a pair of catfight segments and a match that Amy won via forfeit. In her last appearance in WWE in February 2005, Amy accidentally shot a lawn dart at JBL. She left WWE shortly afterwards, and was written off as being "fired" by JBL for the incident.
Trivia
Before joining WWE, Amy was part of the cast of FX's Son of the Beach as the villainous Porcelain Bidet.