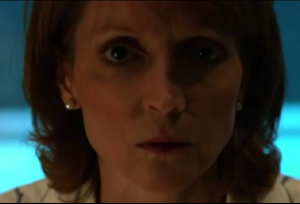 Amanda Daniels is a villainess in "The Five People You Meet in Hell," the second episode of Night Stalker.
She was played by Wylie Small.
Amanda Daniels is a high profile judge who convicted cult leader/serial killer Damon Caylor, who has been exacting revenge from behind bars with the hypnotic phrase, "You know what you have to do," sending the phrase to those who were responsible for his incarceration, which not only included Amanda, but Carl Kolchak's partner, Perri White. Amanda turned heel and fell under Caylor's hypnotic spell as she was preparing dinner at home, while her husband, Colin, was watching basketball. Amanda snarled at Colin to turn the TV down, but he doesn't hear her. Amanda's daughter calls her over to show her something she had done, which is later to be revealed to be Caylor's hypnotic phrase posted in magnetic letters. After seeing the phrase, the evil Amanda slowly walked away and killed her husband with her knife. It was later revealed that Amanda's daughter, who posted the message, was killed by a drunk driver months prior to the event.
Gallery