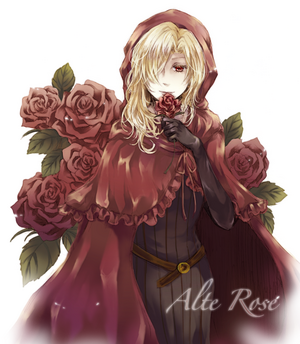 Alte-Rose
is the antagonist in the song "
Bara no Tou de Nemuru Himegimi
". The wise woman is to blame for two execrations laid on Rose Princess; though the first one gets foiled by Aprikose's during the banquet and the consequent events leads to the princess's story, thus inducing the second at the end. Her voice and singing are provided by MIKI.
Appearance
From the silhouette in Märchen booklet, Alte-Rose is distinctly shown to have a sideswept fringe on the right. She is garbed in a cloak with the halter trumpet-shaped evening gown beneath suited by a belt, also donning fingerless gloves. In the concert, she is tinted as a blonde with scarlet eyes, her cloak in red, her dress in black and the belt in brown.
Role
Being the only one uninvited, Alte-Rose - the thirteen wise woman - unexpectedly shows up in the banquet blessing Rose Princess's birth, proclaiming the princess's fate with a spindle as the bane to end her fifteen years of living. Aprikose, another wise woman present at the moment, challenges the curse by trading it with a thousand years of slumberland for the princess while 'looking dead'. When the time comes, Alte-Rose appears before Rose Princess in the form of an old woman spinning yarn in the tower that later becomes the princess's deathbed when curiosity drives her to touch the spindle, hence fulfilling the curse.
However, the arrival of Red Prince as promised by Märchen von Friedhof and his fated kiss awaken the princess from her millennium sleep. Rose Princess orders to have Alte-Rose exiled, which provokes the wise woman to cast a recondite curse as the parting gift.
Theories
The story is concluded with the wise woman being removed from the kingdom at Rose Princess's behest.
Similar physical features and the name meaning suggest that Alte-Rose and Crimson Old Rose can be the same person, thus furthering the correlation between Bara no Tou de Nemuru Himegimi and El no ehon 【Majo to Lafrenze】 already supported by the connected melody played during the second curse's narration and the finding of Lafrenze.