✔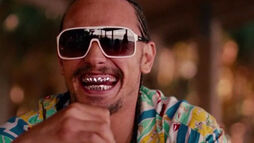 Alien is a protagonist villain of the 2013 crime comedy/drama "Spring Breakers".
He was played by James Franco who also played New Goblin in Sam Raimi's Spider-Man trilogy, Gator Bodine in Homefront and Christian Longo in True Story.
History
Alien is a drug dealer and gangster. He was friends with Big Arch until Big Arch warned him to stop selling drugs in his territory. Eventually, along with [[Brit (Spring Breakers)|Brit] and Candy, he goes to get revenge on Big Arch at his mansion, resulting in Alien's death, to which Brit and Candy avenge, killing the guests with guns and ski masks, before killing Big Arch himself. They both end up kissing Alien's dead body.
Trivia
He is arguably the true main antagonist, given that it's him who sends the girls even farther down their dark path.