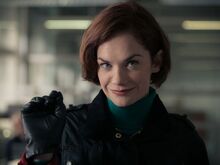 Alice Morgan is the first antagonist in the BBC psychological crime drama series Luther. She is a highly intelligent psychopath first brought in by John Luther after the death of her parents, although it quickly became clear that she was the one who killed them. Unfortunately, Luther was forced to release her due to lack of evidence. Later on, however, she becomes an on and off ally to Luther.
She is portrayed by Ruth Wilson.
Personality
Alice is a genius, as well as a sociopath and malignant narcissist. She states that she felt as though she was a freak growing up, and hated her parents. Over the course of the series, Alice becomes a close friend of Luther's and one of the few people he trusts, sometimes acting as his accomplice. Their friendship is strong, despite the fact that Alice's core belief, that nothing ultimately matters, comes into direct conflict with Luther's.
Ad blocker interference detected!
Wikia is a free-to-use site that makes money from advertising. We have a modified experience for viewers using ad blockers

Wikia is not accessible if you've made further modifications. Remove the custom ad blocker rule(s) and the page will load as expected.