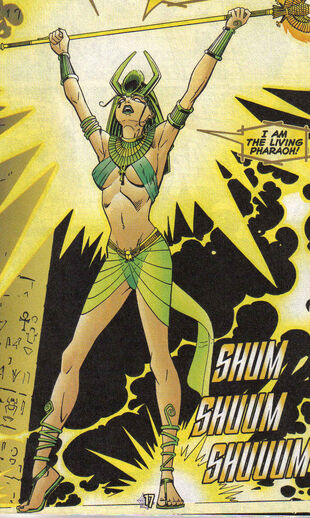 Akasha Martinez is an enemy of Spider-Man and a supervillain.
Akasha is a teenager from Utah and she is the daughter of two divorced parents who live in different cities. Akasha rode her dirt bikes with her friends to escape her rough childhood which makes her parents see as an outsider. One night, Akasha stumbled upon what she thinks is a UFO but lost consciousness when she came close to it.
Her friends dragged her to the hospital where she gained contact with the Living Pharaoh. She went to the museum and stole some artifacts from the Museum which later bestowed her powers. Akasha later called herself the Living Pharaoh. Spider-Man noticed her using the Artifacts for villainous purposes. Spider-Man noticed it and fought Akasha. He seperated the artifacts to strip her powers. Akasha managed to break out the cell and hit the super-hero with a strong beam that was enough to kill him. She didn't bring herself to kill the superhero. Spider-Man destroyed the staff which made Akasha lose contact with the Pharaoh and she grew wings. Akasha later redeemed herself.