Agent Bishop
Talk

0
26,534pages on
this wiki

✔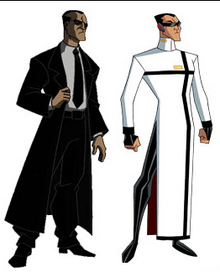 Agent Bishop is a agent in the Teenage Mutant Ninja Turtles. Voiced by David Zen Mansley.
Appearances
Bishop first appeared during the Triceratons invasion of Earth for Professor Honeycutt where he is talking to a mysterious villain of the Turtles and of the Triceratons.
He orders his men the capture of the Turtles and Professor Honeycutt alive. They taken them to his lab where Bishop says he knows everything about them, including their names. It turns out he made an alliance with General Blanke of the Triceratons into handing Honeycutt in exchange for the Turtles. With them on his side, Bishop plans on dissecting them for alien DNA. He battles the Turtles, April, and Casey, and gets the upper hand on them. Then he escapes with the DNA samples, but not before declaring they'll meet again.
Next, he kidnaps Karai, and threatens Oroku Saki aka the Shredder into giving him his work in exchange for her safety. However, instead of surrendering, Saki sends Hun to retrieve Karai. Bishop fights the Turtles with Hun and Karai, and appears to get the upper hand again. He escapes again.
Bishop kidnaps Splinter, the Turtles' master, for his rat DNA to be part of his slayers. While in the fight, Bishop is thrown by the explosion and impaled by a hook. However, when the Turtles look back, he is gone and has gray liquid on him, suggesting he is not human.
He then leads an assault on Saki's mansion. At that time, he has Baxter Stockman working by his side.
When the EPF is threatened of getting shut down due to the attack at Oroku Saki's mansion and failure to capture Flint, Bishop faked an alien invasion in order to prove the President, the one who plans on shutting his organization down, of how useful the organization is. His plan worked as the President agrees to give him money to fund the EPF.
However, it goes worst when the aliens that Bishop used for his false invasion has their mutagenic goo in the sewers. This resulted in the entire New York citizens to be mutated. Because of this, he tries to warn Stockman to postpone his attempt to get a new human body. When Stockman is presumed dead in the river, Bishop picks his body up and resurrected him to fix the outbreak.
For season 5, he joins forces with the Turtles and villains into fighting against Tengu Shredder.
Powers and Abilities
He's immortal and a dangerous martial artist. He held his own against 7 fighters and takes out Hun, and Shredder's elite guards.