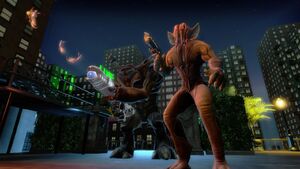 The
Adorians
are hostile alien species in the video game, Men In Black: Alien Crisis.
Appearences
Adorians are humanoid alien creatures. The small Adorians are humanoid just like normal humans, but with fish-like ears and two squid-like tentalcles on their faces. They are much stronger than humans, but less intelligent.
The medium Adorians (unlike the small Adorians) are much bigger than the size of a human. They have an eye on each shoulder, four eyes, a mole's head, feet like a dinosaur, and three fingers.
The Adorian Elite is the largest and rarest unlike other Adorians. He has bigger shoulders with an eye each and four golden eyes.
Ad blocker interference detected!
Wikia is a free-to-use site that makes money from advertising. We have a modified experience for viewers using ad blockers

Wikia is not accessible if you've made further modifications. Remove the custom ad blocker rule(s) and the page will load as expected.