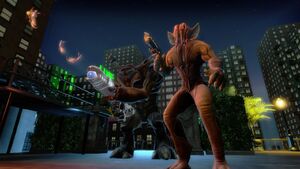 The
Adorians
are hostile alien species in the video game, Men In Black: Alien Crisis.
Appearences
Adorians are humanoid alien creatures. The small Adorians are humanoid just like normal humans, but with fish-like ears and two squid-like tentalcles on their faces. They are much stronger than humans, but less intelligent.
The medium Adorians (unlike the small Adorians) are much bigger than the size of a human. They have an eye on each shoulder, four eyes, a mole's head, feet like a dinosaur, and three fingers.
The Adorian Elite is the largest and rarest unlike other Adorians. He has bigger shoulders with an eye each and four golden eyes.